Easily Digitize & Organize Receipts
I'm so excited to have Barbara from Simplify Days here to share her wisdom with you today! Barbara is definitely a digital organizing expert, and I think she loves Evernote even more than I do. She even has an entire course about how to go paperless and go digital! I highly recommend it if you're interested in going more paperless. I love how she breaks everything down step by step and how she includes screencast tutorial videos showing you exactly what to do. Click here to see all the details PLUS Barbara is offering 15% off just for you for one week only. Enter coupon code simplify_iheart at checkout to get your discount.
---
Hi I'm Barbara from Simplify Days. Four years ago my husband and I decided we wanted to simplify by downsizing our space and getting rid of our stuff. We returned, sold and traded what we had previously spent the last four years accumulating. It felt good, liberating actually. However, we still had boxes and boxes labeled: books, journals, pictures, planners, memories, DVD's, CD's, taxes, receipts, client files and other business paperwork, recipes, magazines and health information in what seemed to be a towering heap. That's when I decided to take the leap and go completely paperless!
We have now been living the paperless lifestyle for years and love the freedom, flexibility, organization and simplicity that has come with the paperless lifestyle. Paperless living truly simplifies my life and my business.
Digital Receipts
Today I'm excited to talk with you about one of my absolutely favorite things since going paperless, digital receipts! Digital receipts are the perfect way to:
Create a cleaner space in your home and wallet by eliminating paper clutter
Save time by eliminating the need to look for receipts, you can easily find receipts with the ability to search by account/card, store, product(s) and/or purchase date
Save money by ensuring you get full credit for your purchases
Simplify returns for yourself by always having your receipts available when you need them
Simplify returns for others by easily texting or emailing them a copy of the receipt
Make taxes easier if you have any deductions
I use an app called Evernote to house my digital receipts. Evernote is a free and amazing organization application. Evernote is available on all major platforms, just search for it in the app store. This article will walk through the basics of Evernote and how to digitize and organize your receipts all on your phone.
When you launch the app it will ask you if you'd like to create a new account or sign into an existing one. If you're new to Evernote set up a new account with your desired email and password. Once you're signed in, you will be brought to the main screen which looks like this.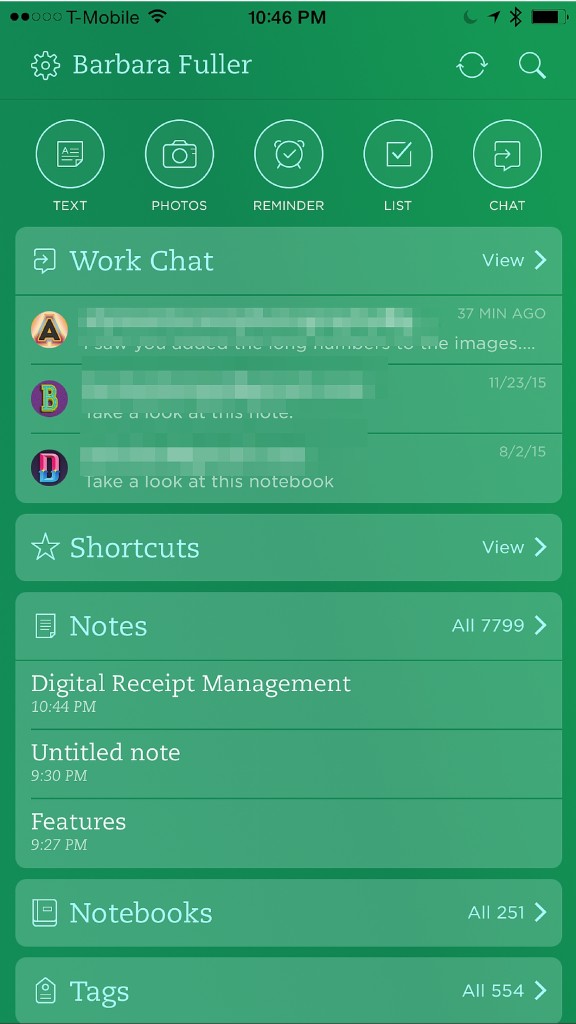 We'll briefly discuss the two main organization features of Evernote: Notebooks + Notes.
Evernote Notebooks + Notes
Notebooks & Notes are a new way to think about storing digital information. Although it works a bit differently, the best thing to compare notebooks to is just a regular folder on your computer. The best thing to compare notes to is just a regular file on your computer, like a pages or word processing document. In Evernote, notes are kept in specific notebooks, just like documents are kept in folders on your desktop. For Evernote, you simply create a new notebook, specify the title and then start adding notes in that notebook. Just like you would with a physical notebook that you add notes to.
Create Your First Notebook
To get started with digitally organized receipts lets create a notebook to house the information. Select Notebooks in the main menu.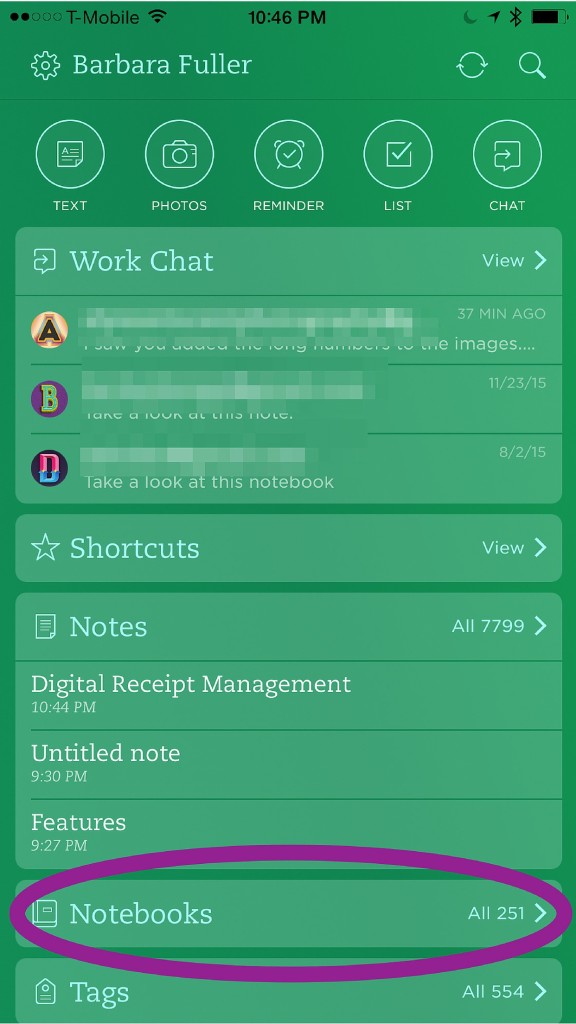 Then on the top of your screen select +New Notebook. This will be the notebook you'll use to store your receipts. Choose a title that makes sense to you, Finances or AMEX Personal are potential options. When your title is entered, hit Done.
Create Your First Note
Now we'll create a single note within the notebook to store an individual receipt. Select the + icon at the bottom of your screen.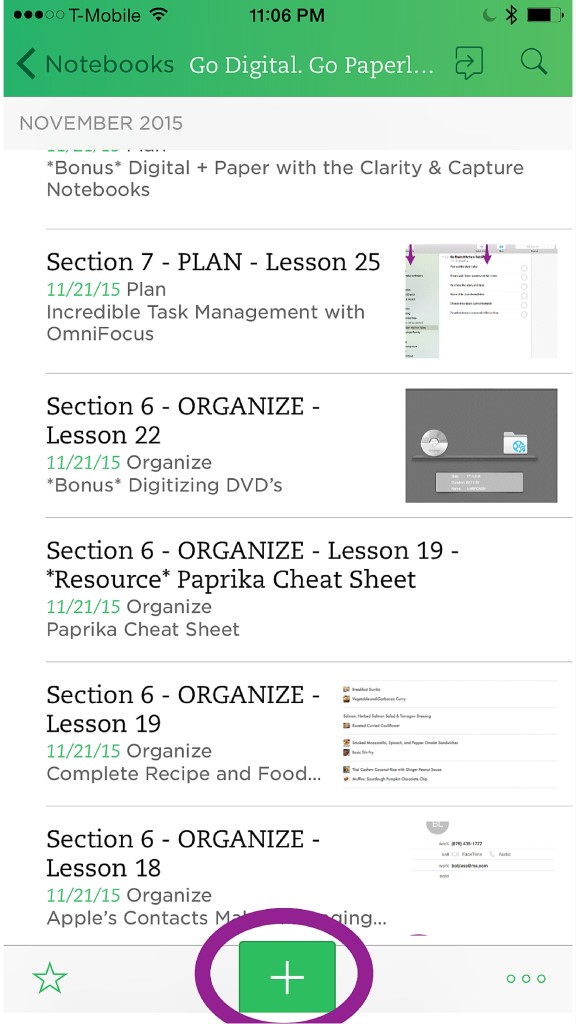 That will bring up three options. Select photo.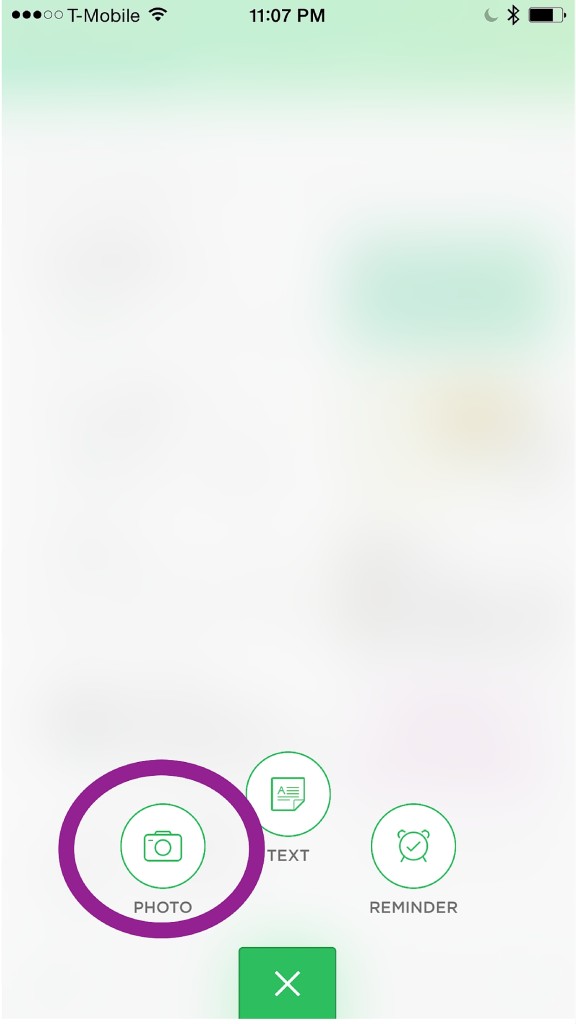 Make sure auto-mode is turned on by touching on the icon in the top right corner.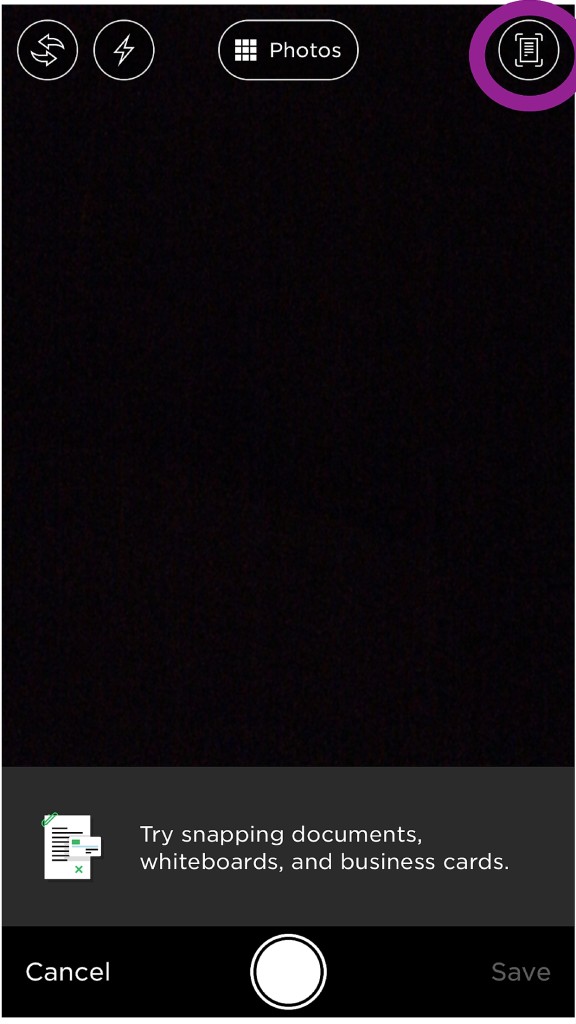 Focus in on your receipt. Here is a receipt I have from Costco. You will see Evernote automatically framing in your receipt. When things are focused and aligned take the picture. If the receipt is too long to fit in one frame capture the remaining portion of the receipt with another image. Once you have everything captured, hit Save.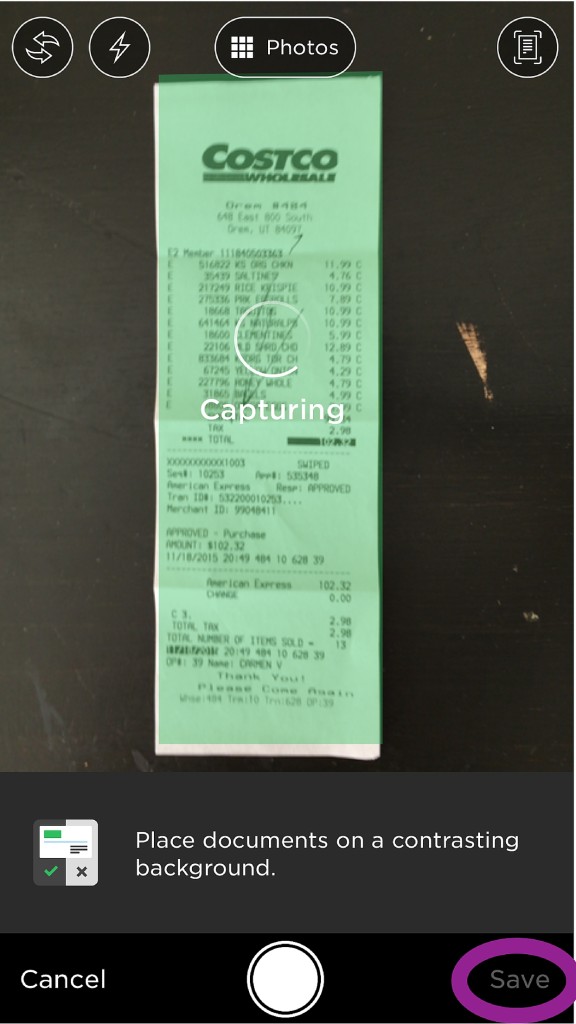 That will open a new note and the image(s) of your receipt will appear in the note's contents.
Titling & Organizing the Notes
You can now assign any title that you'd like to the note by selecting the note and editing the information at the very top. I use the following outline to title my receipt notes:
Year-Mo – Purchase Location
For the receipt I showed scanning above I would title the note:
I use this titling structure because, when notes are sorted by title, all of my receipts will be organized chronologically by year and then by month. It makes it really easy to find and reference receipts.
Voila! Your receipt is now digital and organized in a wonderful and simple system.
Viewing & Searching Receipts
Within your notebook you can choose how to view your notes. They can be organized by title, date updated or date created. To select a viewing option select the icon in the bottom right corner.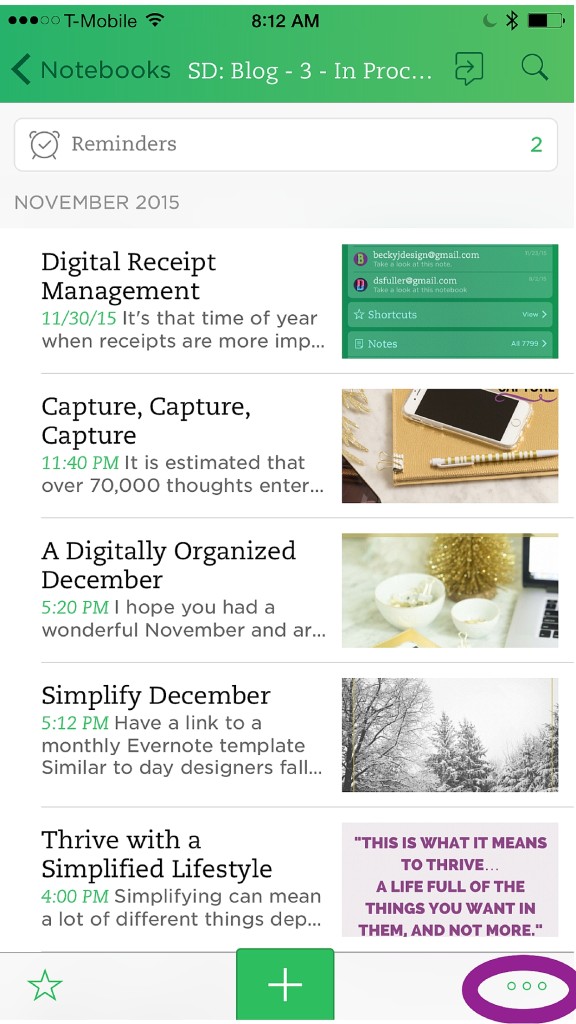 Then select your viewing option.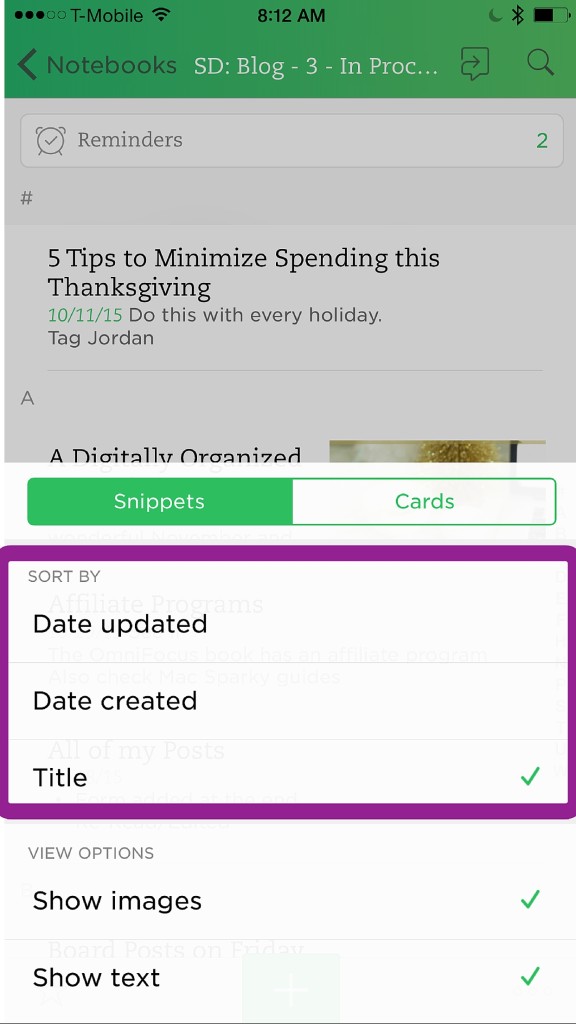 You can also use Evernote's amazing search function to find receipts. Select the magnifying glass in the top right corner to preform a search. Evernote will search the title and the text in the actual receipt.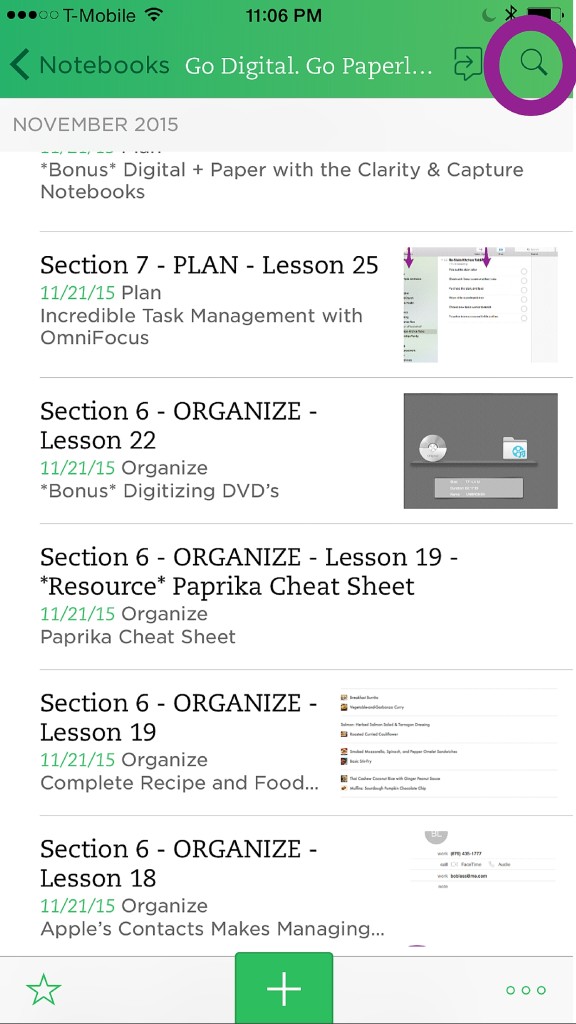 Returns & Exchanges
I have been using this organization method for years and have never had a problem returning with a receipt scanned into my phone; however, I can't promise that all stores will be okay with this method. If you're concerned, just called the store and ask them.
Online Purchases
Use this same organization system for receipts that are already digital. When you purchase something online, take a screen shot (see how to do that here) and then file that image away in the notebook for that card/account and title it using the same methods.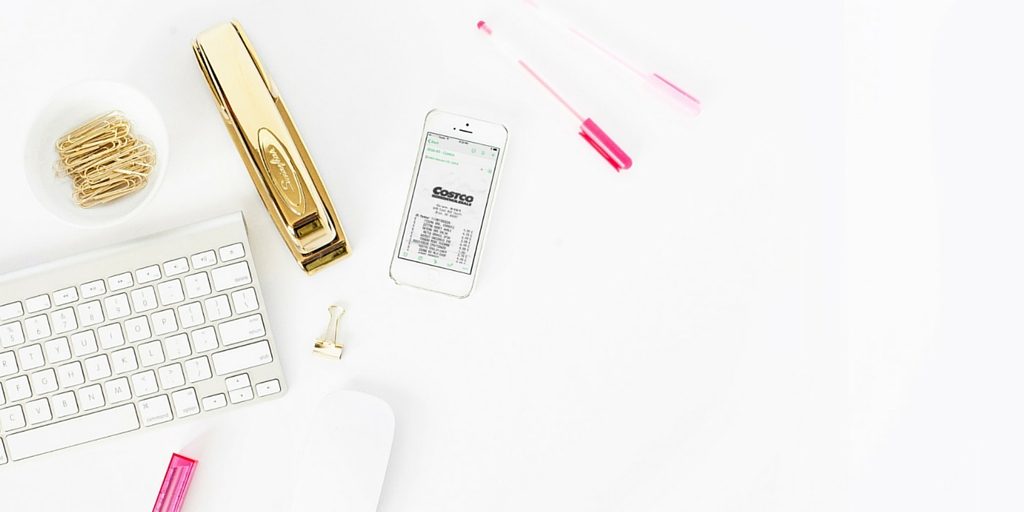 Note: Offline Notebooks
Evernote is a cloud based service which means that information is seamlessly synced between all of the devices where you have the Evernote app installed. (See a tutorial for using Evernote on your desktop/laptop here). The information is stored locally on your computer which means you can access the information even if you're not online. On mobile devices however, information can only be accessed if you are online. With a premium account, you can set up offline notebooks to have access to the information all of the time. If you're using the free account just take into account that you'll need to be online to pull up the receipt in the store. If you know that you won't have internet in a store then just save the image of your receipt directly to your phone before going to the store.
I hope that digitizing and organizing your receipts helps simplify and streamline your life! Plus, your friends and family will be very impressed when you pull up your receipt on your phone instead of digging for a piece of paper in you purse. 🙂
A Digitally Organized Life
Guess what? Receipts aren't the only thing that you can digitize! Since taking the paperless leap, I've whittled down all of the paper in our home to just one single file box. That's it! All of our recipes, journals, warranties, paperwork and more are digitized and organized. If you're interested in more ways to get digitally organized then I'd love to have you join me in my free email course: Simplify with a Life Digitally Organized. In addition to learning Evernote, we'll discuss scanning strategies and additional paperless techniques. You'll receive 7 emails for 7 consecutive days with specific and actionable strategies for cutting the clutter and getting digitally organized.
I truly hope this quick tutorial helps simplify your life. Let me know in the comments below what you think of going paperless! What's holding you back from taking the plunge? (And don't forget to check out Barbara's full go digital, go paperless course and get 15% off with coupon code simplify_iheart. The code is good through next Wednesday only.)
---
Barbara is a professional organizer and a Certified Evernote Consultant. She is the owner of Simplify Days and teaches others how to simplify with these four steps: (1)Minimize, (2)Digitize, (3)Organize & (4)Prioritize. You can simplify with her on Instagram, Facebook and Pinterest
Disclosure: Affiliate links are included in this post. I only share products that I use, love, and would recommend to my best friend. Thank you so much for supporting my blog!
Get Organized
Sign up to receive the free Get Organized Once and For All ecourse.