Dollar Tree Secrets
Dollar Tree organizing is totally trending right now!  I've seen several videos where people do huge organizing projects exclusively with Dollar Tree bins and products.  It's sooo tempting to go this route because of the affordability.  Let's face it– organizing can get expensive if you let it!  I have a few tips and tricks for success with Dollar Tree organizing!  Check out the video here, or keep reading!
It's not actually $1.
So this is a bummer, but a few months ago their prices increased from $1 per item to $1.25 per item.  Inflation, right?  I mean it's fair.  They went forever without raising their prices, and their costs have increased just like everyone else's.  $1.25 is still a great deal, so it's not a huge issue– just something to be aware of!  For easy math, I just keep in mind that 4 items is $5 so it doesn't add up too quickly and surprise you!
Not everything is the cheapest there.
There are some items that would be cheaper somewhere else.  I find this a lot with food items.  They'll reduce the quantity so they can hit the $1.25 price point, but if you pay attention to pricing and do the math, it's often cheaper to buy the food item in a larger quantity at Walmart or somewhere else.
Even organizing items can be cheaper.  I buy drawer organizers at Target in multipacks that end up as cheap or even cheaper sometimes.
Most people go to multiple Dollar Trees to complete a project.
What you don't often see in the Dollar Tree videos is that the organizers have to go to many different Dollar Trees.  I'm not talking 2-3 stores.  I'm literally talking about 10-20 locations.  This is because the stock varies so widely, and even if they have what you're looking for, they may only have a couple bins when you need 15.
You can always ask if they have more stock in the back.  Sometimes they do, but often they don't.  It's not like you can walk into a store, get what you need, and be done with it.  For some people this may not matter, but you can waste a LOT of time gathering supplies if you don't live near a bunch of Dollar Trees.  I personally have several within 15 minutes of driving, but it can get a little ridiculous if you spend time and money driving to all the Dollar Trees!  Make sure you're not negating your savings with travel costs.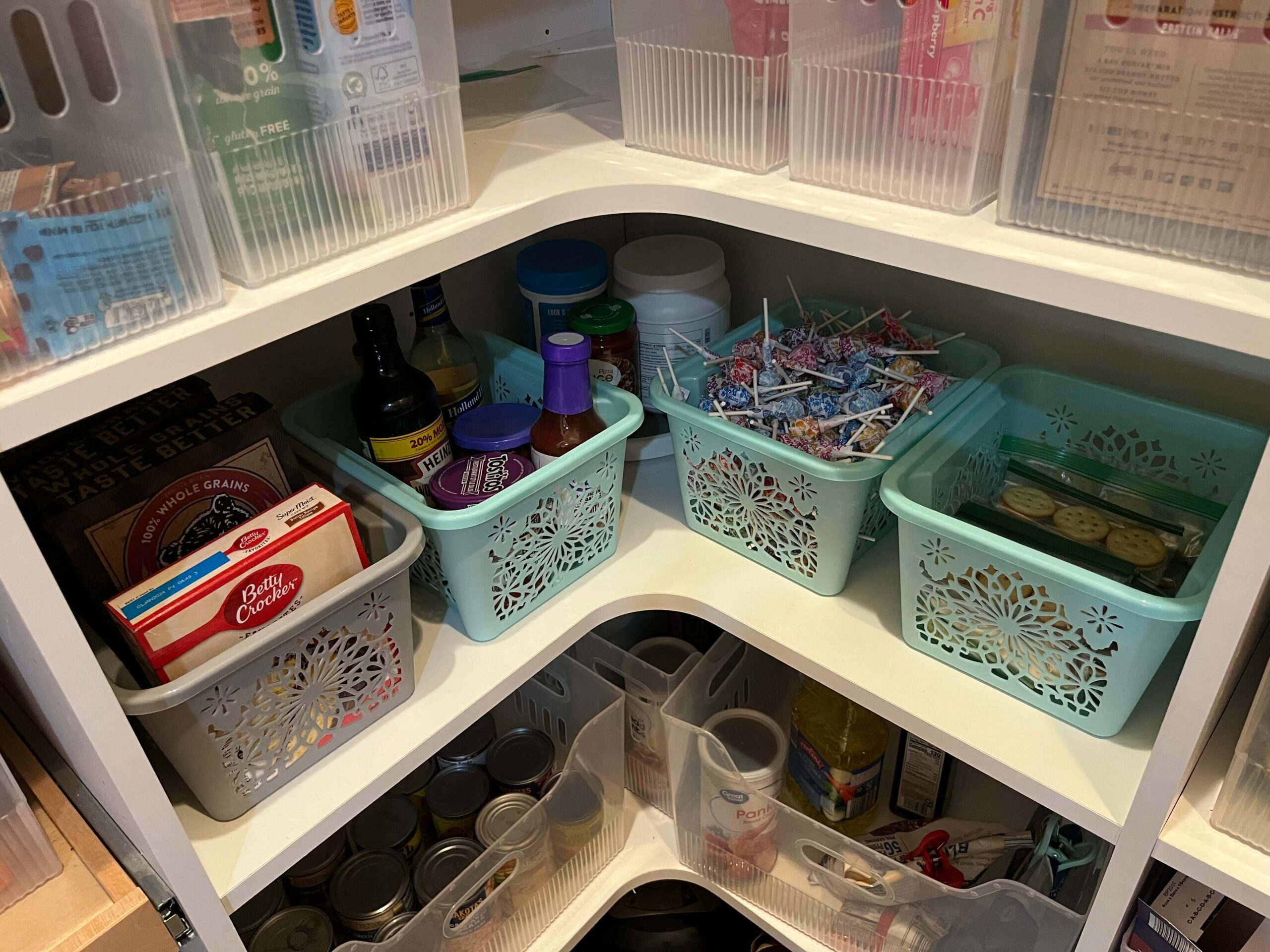 Not every store has the same thing.
There is just no way to predict which store has what.  Colors can vary widely, or they may not carry the item you're looking for at all!
Online ordering is different!
Dollar Tree online is definitely not like what you're used to with online shopping!  There is always a minimum order quantity, and usually it's by the CASE.  So if you need 14 bins, and they're sold in a case of 12, you can't just add two more.  You'd have to buy 2 cases, or 24 bins.  Overbuying items you don't need because of their order system can also eat up any cost savings.  If you want extra bins or can use them, that's one thing, but it's definitely not an easy ordering system for the average person!
Shipping can also be super expensive if you want it to come to your door.  I tested it the other day, and 25 items had a $20 shipping fee to my house!!  However, you can always have it shipped to the store for free, so then you just have the small inconvenience of picking it up.
Not everything online is in-store and vice versa.
It would be awesome if you could order that case of 12 bins and pick up the extra two you need from the store.  But this rarely works out.  The items can be different, or the color/style/print is different.  Or they may just not have the item at all online.
Also, if you buy something, you should always buy everything in that color/pattern that you think you'll ever need.  They may never have it again!  There is no rhyme or reason to why they discontinue or reproduce some items or what colors they use, and they switch those details out constantly.  Sometimes I really love the fact that I can go back to the Container Store and get my multipurpose bin in the "boring" clear color to match what I already have.  But hey, I'm big on matching bins, so I'm okay to pay more for that in some cases!
My favorite things to buy at Dollar Tree.
Despite the stock issues, there are some items that are fantastic to buy at the Dollar Tree:
greeting cards– so cheap, and most are pretty cute!
gift bags– I HATE spending $5+ on gift bags.  I'd rather put that money into the gift!
helium balloons– soooo much more expensive at party stores.
party supplies– tablecloths, plates, cups, party favors, etc….such a good deal!
Remember DT isn't the only place for cheap organizing.
You can also find some fantastic deals on bins and organizers at Target or Walmart, or Amazon.  Take the size into account, too.  Do you have to buy 2-4 bins at the Dollar Tree to equal the size you can buy at Target?  If so, is it still cheaper?
The items at the Dollar Tree are also made super cheaply (obviously!).  This might not matter in some cases.  Sometimes you need something sturdier or want it to look a bit more elevated if it's on display.  In this case, my favorite higher end organizers that can be bought on the cheap is the Home Edit line at Walmart.  It is soooo close to the same quality as the Container Store for a fraction of the cost!  Check out my video review of that line here.
Consistency makes a difference.
If you want something to look super organized, match your bins!!!  An area can be totally organized, but if your bins are all mismatched, it really doesn't look organized.  Visual consistency is huge when you want to calm down the visual clutter.  If you're able to buy a ton of bins from the Dollar Tree because they're more affordable, then it might be worth it.
You can spray paint almost anything.
Often the colors at the Dollar Tree are a little bit, um…all over the place!  It resembles colors for an elementary school for me.  If that's your thing, then that's great.  My personal taste runs a bit more neutral…and of course, matching, LOL!  But something to keep in mind is that you can spray paint almost any material!
If you find the same bin in different colors, or if you just don't like the color, you can buy a can of spray paint and fix that.  Spray paint is usually around $5 a can and should do many items.  Just be sure that the spray paint you buy works for the type of material (like plastic or metal) that you're painting.
Hopefully that helps and encourages you to give the Dollar Tree a try if you've been curious!  There are definitely some deals to be had if you're patient and work at it a bit!  If you want to see how Dollar Tree products stack up against much more expensive Container Store items, check out my video of Dollar Tree dupes for Container Store products here!