Container Store vs. Dollar Tree
The Container Store and the Dollar Tree are two of my favorite stores for organizing items!  Obviously, one is much more expensive than the other.  Spoiler alert– more expensive isn't always better! Check out the video here or keep reading to see what Container Store dupes–or almost dupes– you can find at the Dollar Tree!
Multipurpose Bins
If you've hung around here long, you know that my absolute favorite bins are the Multipurpose Bins from The Container Store.  They are just fantastic.
They are the perfect depth to fit on most shelves.
They come in 4 sizes (small, medium, large and XL) and can fit almost anything!
They can be used in so many places– pantry, garage, bathroom, closet, office, under the sink.
They are clear and easily coordinate.
You can always go back and buy more if needed because they are a permanent product.
So, it's a tall order to find something at the Dollar Tree that competes with my favorite bins.  Truthfully, I didn't really find a good dupe here.  I did find a few things that are somewhat comparable, though.  This is a picture of my pantry organized with the Multipurpose Bins:
And here's one with some Dollar Tree bins: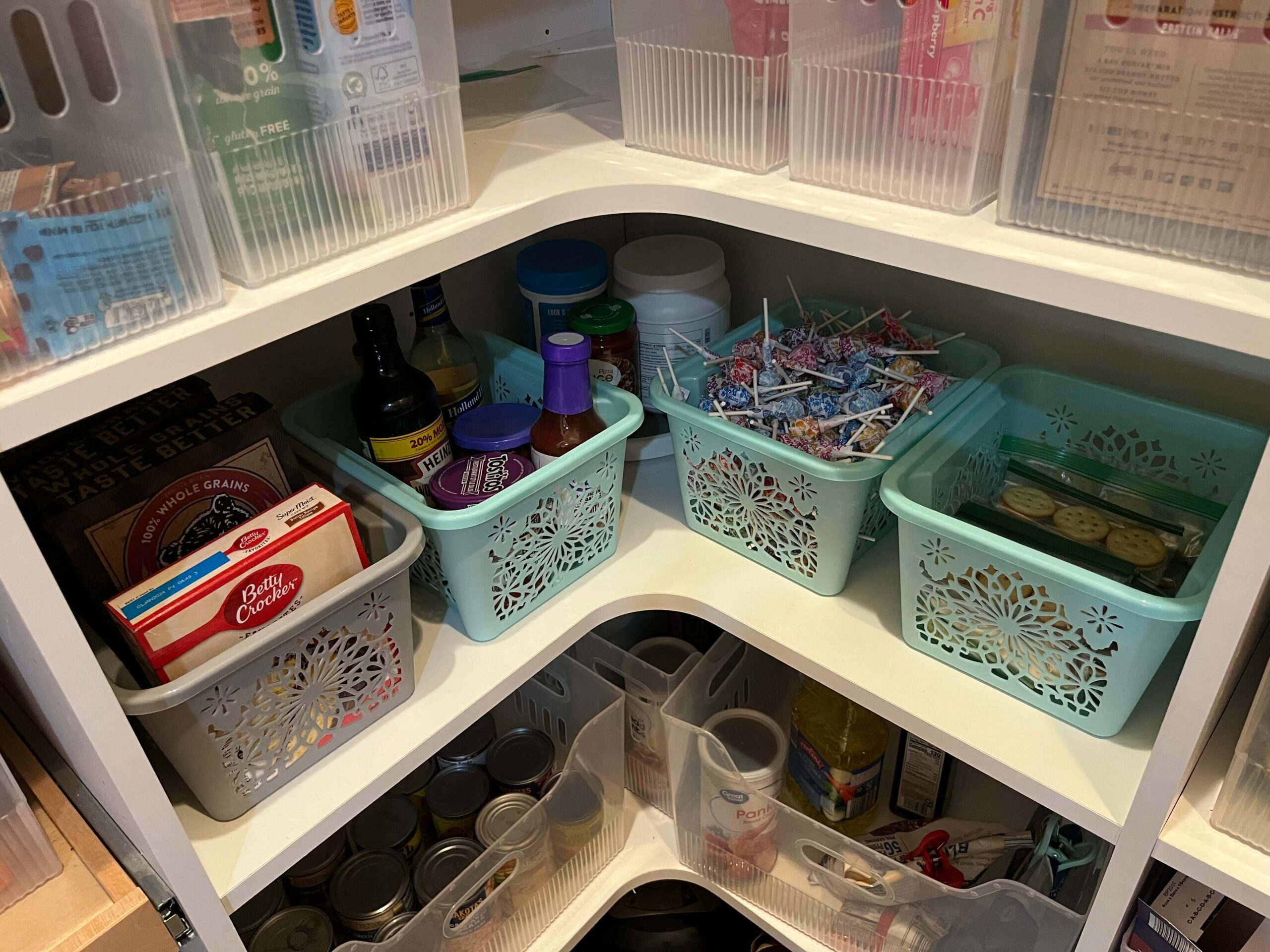 They are still useful, but here is what I couldn't fit in the Dollar Tree bins that I CAN fit in the Multipurpose Bins:
I really wish I could find a comparable bin at a cheaper price, but the clear winner for me here are the Multipurpose Bins from The Container Store.
Poly Envelopes
I use envelopes for storing all sorts of things– organizing paper, stashing receipts or coupons, or really anything that you need to file away but don't want little pieces falling out.
The Container Store version is very sturdy and maybe has a better snap on the flap.  I think they would hold up well to a lot of use.  However, the Dollar Tree sells a three pack for $1.25.  If the snap breaks or the envelope tears, well then grab a new one.  The cost difference here is just crazy.  Dollar Tree wins here hands down!
I do actually buy a lot of these envelopes from Amazon, too.  They have great prices as well, and the ease of ordering is nice because the Dollar Tree can sometimes be a bit unreliable in what they stock in store.
Canvas Bins
Are these canvas animal bins not the cutest?!?  The Container Store canvas bins fit perfectly in the Ikea Kallax bookcase.  They are larger than the Dollar Tree version, and they're a bit sturdier.  I love these Container Store bins because they're so adorable and because they fit perfectly.  But the Dollar Tree has a comparable product:
This gray bin is obviously a great value.  If you're not using it in a cube shelf like I do, it could be a great option.  I like the handle, and I like the neutral color (although I might prefer a solid instead of a pattern).  It is a little more flimsy, and the fabric isn't as nice, but for the price, it's definitely a winner!
I'm calling this one a tie because both bins could be useful in different situations.
Paper Trays
I love using paper trays for an inbox/outbox situation.  The Container Store version I have is a bit more compact, and it has solid sides, which are great if you plan to label the slots.  However, the Dollar Tree version is great, too.  Each tray is $1.25, but you can stack as many as you like, and it comes in a nice neutral color (black).  Not every Dollar Tree carries these, though, so again, it can be a pain to find them sometimes.  They're super sturdy, though, and they clip together, so once you connect them, you don't have to worry about them falling apart.
I'd call this a tie as well– each version has its pros and cons!
Drawer Organizers
A staple for me is definitely a good set of drawer organizers!  The Container Store has tons of options, including some super cute (but expensive, of course!) acrylic organizers and trays.  They also have some nice adjustable size organizers, so you can make them modular.
I'm ALL about modular drawer organizers!!  It's the best way to make them fit and be able to rearrange them to best fit a drawer of any size.  The Dollar Tree has some fantastic modular little organizers sold in packs of 2-3, and at $1.25, you just can't beat that!  They do have slots/holes on the sides, so if you're organizing something super tiny like paper clips, these wouldn't be the best, but they are definite winners for most situations.
I'd call this a tie again– the price and modular sizes can't be beat at the Dollar Tree, but The Container Store definitely has a wider variety if you have specific needs.
Handled Baskets
I LOVE these for my upper cabinets.  I'm on the shorter side at 5'4″, so sometimes I have trouble reaching the higher shelves in my upper kitchen cabinets.  The handled baskets make it so easy for me to pull down what I need for better access.  I use these clear handled baskets from The Container Store all over my kitchen.
The Dollar Tree version is great, too!  They're sturdy, and they have a nice handle.  They're even bigger than The Container Store version.  Normally this would be a good thing, but they are consistently 1/4″-1/2″ too big to fit in my upper cabinets!!  I hate that because otherwise they would be perfect and sooo much cheaper!
It's a tie again!  If you are using them on a shelf and not inside a cabinet, then Dollar Tree is the clear winner.  However, if you need them to be inside a cabinet, you'll have to spring for the Container Store ones so your cabinet doors will close!
Organization can be done at any price point!  There are some real winners at the Dollar Tree!  The biggest issue I have with the Dollar Tree is that you can't always go back and find the same item or color.  You just can't depend on their stock, and sometimes it's hard to find certain items.  However, their prices are insanely good!  If you're on a budget, be sure to check it out, and if you're interested in more budget organizing, you can watch a playlist I have here on YouTube for more ideas!