5 Day Decluttering Challenge!
I want to see you succeed and make real, lasting changes in your life. I want 2020 to be a year of less stress and more peace in our homes!! Who's with me???
I offer a variety of printables, online classes, a planner, the Sweet Life Society and, of course, all of the information you can find on the blog to help you reach your goals. I have seen so many people (myself included) use those tools to make so much progress over the years, but the last three weeks I've seen more drastic results than I ever have before. So many in the Sweet Life Society have been making huge improvements to their home, their lives, and most importantly, their peace of mind as a part of our group Society wide challenge.
And the crazy thing is – what they did was so simple – yet it has made SUCH a difference!
I challenged the members in the Sweet Life Society to declutter one item a day for twenty-eight days. And boy did they ever take me up on it!
Check out these posts in the VIP Clubhouse (the private Facebook group just for Society members) from women who took the challenge by storm and made HUGE progress.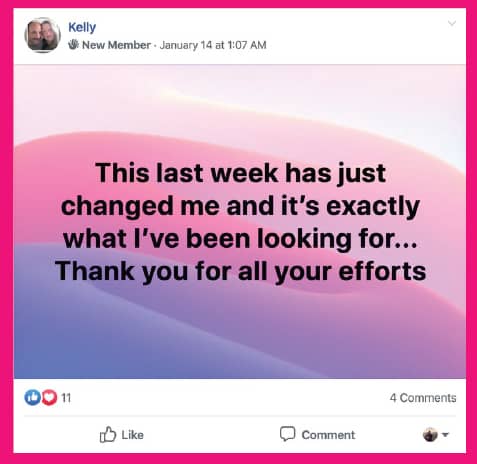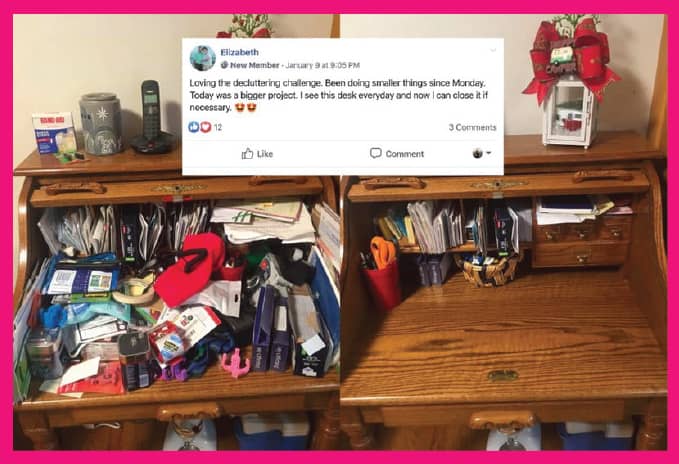 And those are just three of the hundreds of people sharing their results in the group!
Who would've known a month ago that so many across the world would dive into decluttering their homes and encouraging each other in the effort. And let me tell you, Goodwill should've seen an increase in donations over the last few weeks!
What they did isn't complicated – but it is so powerful!
And the thing is, you can do it too!
Members of the Sweet Life Society are headed into the home stretch of their 28 day challenge, and I've decided to throw open the doors and welcome everyone in to declutter as we count down to the finish line together.
I've put together a special Five Day Decluttering Challenge just for you, so you can come alongside, almost like an honorary member of the Sweet Life Society, and declutter your space, enter to win prizes, and be cheered on by a supportive and powerful community!